8th Annual Scramble-4-Life Golf Outing — Register Now
Saturday, May 12, Shelby Oaks Golf Course, Sidney
Shotgun Start @ 8:30am (Sign In begins at 7:30am)

$200 per 4-Person Team includes 18 holes of golf, cart, and lunch
All proceeds benefit Right to Life of Shelby County
Registration is open until May 4. Call or text: 937-489-9129; E-Mail: scramble4life@gmail.com
Local Junior Wins 10th Annual Pro-Life Speech Contest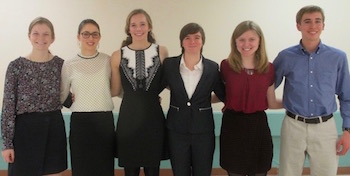 Malorie Hussey took top honors in the 10th annual Shelby County Pro-Life Oratory Contest on Presidents' Day. Hussey spoke on the many adverse effects that child-loss through abortion can have on women, but also shared inspiring stories of recovery and healing. Hussey is in her third year at Lehman Catholic High School and, according to her speech, is considering a career in gynecology.
Hussey was one of six contestants. Runner up in the contest was Abby Jones, a senior at Lehman Catholic High School. In third place was Joe Ballas, a junior at Fort Loramie High School. The five to seven-minute speeches included the topics of abortion, doctor-prescribed suicide and stem cell research.
Contest prizes ranged from $300 to $100 and, as the winner, Hussey will go on to compete in the state contest in April, with a chance to continue to the national level. Judges were Tara Adams, of Sidney; Sanna Aikin, a French teacher and translator; and Kurtis Black, an attorney practicing in Troy.
Anne Schmiesing, the coordinator of the contest, noted, "Ten years ago was our first contest in Shelby County, and our winner, Elizabeth Trisler, started us off with a win at the state level. The following year she won both the state and national contests. Malorie is also an excellent presenter and I expect her to represent Shelby County well at the next level."