Join Us! Life Chain and Open House, October 5
Please join us Sunday, October 5, 2:30-3:30, for our area's observance of the annual National Life Chain. We will gather at the west steps of the courthouse at 2:30 for a brief program, followed by a period of prayer and witness on the sidewalks on the court square.
Immediately following the conclusion of the Life Chain, we invite you to visit our renovated thrift shop for an Open House.
At left, Fr. James Riehle blesses the remodeled thrift shop and office during a recent RTL board meeting.
Promoting Life at Local Parades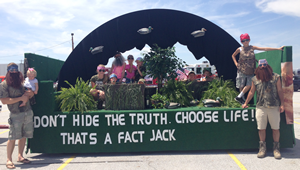 The Right to Life parade float appeared in many of the area's festivals this year: Jackson Center Community Days, Botkins Carousel, Versailles Poultry Days, Anna Homecoming, and Sidney Applefest.
As a tribute to the hit cable show and to the Robertson family who are well known for their Christian views — including on abortion — the float's theme this year is Duck Dynasty. It displays
the message, "Don't Hide the Truth. Choose Life."
A big thank you to Randi and Chris McVety, who volunteered to organize the float project for 2014. Thanks, too, to all of those who helped decorate, transport, and staff the float during the parades.