Pro-Lifers Witness at Life Chain
About 100 local pro-lifers turned out for the annual Life Chain on Sunday, October 5. It was a beautiful witness to the dignity of all human life. Following the chain, we had a successful Open House, which gave us the opportunity to share the renovated thrift shop and visit with area pro-life friends.
Thank you to all who helped make the event so meaningful: Pastor Steve Chapman of Sidney Wesleyan Fellowship; Christy (Trisler) Peterson, who delivered her powerful speech; Elizabeth Barhorst, who represented RTL's membership committee; and all those who assisted with the Open House. (See more photos from the Life Chain.)
Promoting Life at Local Parades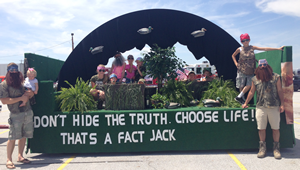 The Right to Life parade float appeared in many of the area's festivals this year: Jackson Center Community Days, Botkins Carousel, Versailles Poultry Days, Anna Homecoming, and Sidney Applefest.
As a tribute to the hit cable show and to the Robertson family who are well known for their Christian views — including on abortion — the float's theme this year is Duck Dynasty. It displays
the message, "Don't Hide the Truth. Choose Life."
A big thank you to Randi and Chris McVety, who volunteered to organize the float project for 2014. Thanks, too, to all of those who helped decorate, transport, and staff the float during the parades.